SPEAKERS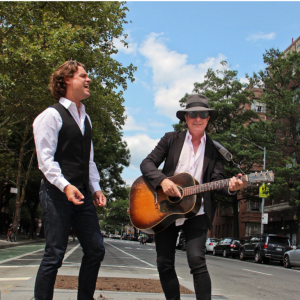 STEREOPTICON is the debut album by the duo of guitarist Gary Lucas and singer Jann Klose.
While Jann and Gary write as collaborators in an urban Americana / Roots Music Genre, both artists are eclectic musicians that tour throughout the world on their own.
Gary's co-written hits with Joan Osborne: "Spider Web," and Jeff Buckley's signature songs "Grace" and "Mojo Pin" from the singer's double platinum album, GRACE. ROLLING STONE says Gary is "One of the best and most original guitarists in America…a modern guitar miracle." He is currently collaborating with Steve Kilbey (The Church), and Chris Shinn (new Live singer), and was Music Director of "State of Grace," a multi-artist Australian tour that paid tribute to Tim and Jeff Buckley.
Born in Germany and raised in Kenya, South Africa and the United States, Jann Klose is currently collaborating with Ann Hampton Callaway, Renaissance's Annie Haslam, Hall & Oates' John Oates and The Yardbirds' Jim McCarty. In 2015 Jann and his music appeared in the short film THE BEAUTY OF DISASTER (Glimmer Girl, USA) and the award-winning Australian feature documentary A VENUE FOR THE END OF THE WORLD (BrinkVision, USA). His most recent album, MOSAIC won three 2014 Independent Music Awards and charted for several months on the AMA and Roots Rock charts.
Gary and Jann both worked on the movie GREETINGS FROM TIM BUCKLEY (Tribeca Film/Focus/Universal). Jann is the singing voice of Tim Buckley, while Gary consulted and played guitar. Follow them on Twitter: @lucasgary @JannKloseBand
< SEE ALL CONFERENCE SPEAKERS>