SPEAKERS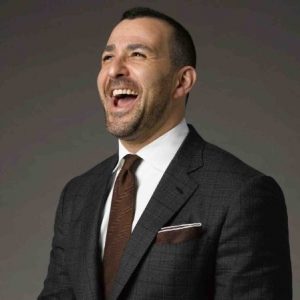 Fred Santarpia
Former Chief Digital Officer
Fred Santarpia was named chief digital officer of Condé Nast in October 2014, and was responsible for building and executing the company's digital strategy to drive growth across its portfolio of brands, redefine its product and marketing offerings, and deepen its relationship with consumers across all platforms.
In this role, Santarpia dramatically reshaped the digital capabilities of Conde Nast, redefining the way the 100 year old media company operates in a multi-platform world. Under his leadership, each brand repositioned to dynamically respond to changes in consumer expectations leading to explosive growth in both digital audience and revenue, more than doubling the size of the digital business of the company over his tenure.
Santarpia led Condé Nast to launch new partnerships extending the Conde Nast brands to new platforms and entertainment mediums while at the same time diversifying into new revenue streams in paid content, commerce, and data services. He also led the company's acquisitions of the popular music editorial property, Pitchfork, the London-based editorial tech company, Poetica, the business editorial property, Backchannel, social data and marketing company, Citizen Net, and the launch of the company's digital innovation center in Austin, Texas.
Santarpia also rebuilt the infrastructure of Conde Nast, overseeing the development and rollout of Copilot, Conde Nast's proprietary content platform, unifying the company on a single platform for the first time in its history, which is now rolling out globally. He has overseen the development and launch of Conde Nast Spire, the company's first ever proprietary data platform, which integrates online behavioral patterns with offline purchase activity to create predictive models for real-time decisioning, and has modernized and streamlined the sales infrastructure of the company, implementing new yield management systems and programmatic
capabilities.
Previously, Santarpia served as executive vice president and chief digital officer of Condé Nast Entertainment (CNÉ), where he created and executed the vision and business strategy that brought Conde Nast's iconic brands into the digital video space. Under his leadership, the company launched and scaled 15 fully distributed digital video and OTT channels from Condé Nast's iconic portfolio of brands, building a subscriber base of millions and making digital video a core discipline that is now as endemic to the company as print.
Prior to joining CNÉ, Santarpia was EVP & general manager of VEVO, where he was part of the company's founding leadership team and served as head of all business operations responsible for Audience Development, Product Development, Social Media and Marketing strategy, Business Development and VEVO's Original Content and Programming teams. Under his leadership, VEVO successfully launched a new $100M+ revenue business for the record industry, began its global expansion into the UK and Europe, built major editorial tent poles and artist discovery programs which continue to this day, and was consistently ranked the #1 video network on YouTube in terms of unique viewership. Before VEVO, Santarpia worked for Universal Music Group, where he held a variety of senior level positions during his tenure with the company, most recently as vice president, operations and finance at Global Digital Initiatives/elabs, eventually overseeing the operations of UMG's 300 artist and label websites, and building the first ever digital ad supported revenue stream for the company.
Santarpia began his career in the media assurance practice at Arthur Andersen. He holds his CPA in the state of the New York. He is a graduate of Villanova University, where he volunteers with their Innovation, Creativity and Entrepreneurship Institute and holds an M.S. in finance from Boston University.
< SEE ALL CONFERENCE SPEAKERS>