SPEAKERS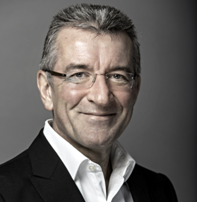 Dr. Didier Bonnet
Senior Vice President and Global Practice Leader
Didier Bonnet is a Senior Vice President and Global Practice Leader at Capgemini Consulting. He also acts as the Executive Sponsor for Capgemini's Digital Transformation offering, a key strategic initiative including a three-year joint research collaboration with the MIT Center for Digital Business.
Prior to this, Didier was the Global Leader of the Telecom, Media & Entertainment practice at Capgemini Consulting for 15 years. He has more than 25 years' experience in strategy development, globalization, internet & digital economics as well as in business transformation for large multinational corporations.
Didier has written numerous articles and is frequently quoted in the press, including the Wall Street Journal, Financial Times and The Economist. He also regularly provides commentary for broadcasters such as the BBC, CNN, Reuters and CNBC.
Didier earned his Doctorate from Oxford University. He is based in London, speaks at events globally and is the co-author (with MIT's George Westerman and Andy McAfee) of the book Leading Digital: Turning Technology into Business Transformation published by Harvard Business Review Press.
< SEE ALL CONFERENCE SPEAKERS>