SPEAKERS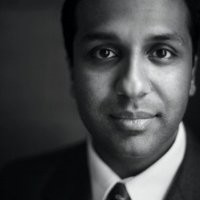 Sree Sreenivasan
Digital & Social Media Strategist & Consultant
Sree is a leading digital and social media consultant and strategist. He works as a consultant, speaker and trainer for nonprofits, corporations and more. He was, most recently, NYC's Chief Digital Officer, running the Mayor's Office of Digital Strategy. He left the position when the role of CDO was combined with the role of Chief Technology Officer of NYC.
From 2013-2016, he was the first Chief Digital Officer at the Metropolitan Museum of Art. At the Met, he lead a 70-person team that worked to keep the 150-year-old institution relevant in the smartphone age.
He joined the Met after spending 20 years at Columbia University as a professor at the Columbia Journalism School and a year as Columbia's first CDO.
He was named one of Fast Company's 100 Most Creative People in Business in 2015.
He is founder of such popular learning opportunities as Social Media One-Night Stand and Social Media Weekend #smwknd
From 2009-2011, he was part of the founding team at DNAinfo.com, developing the initial concept and business plan (funded by the founder of Ameritrade), a hyperlocal site named one of 2010's six hottest news startups by BusinessInsider.
He is co-founder of SAJA, South Asian Journalists Association, SAJA.org, a group of 1,000+ journalists in the US and Canada.
< SEE ALL CONFERENCE SPEAKERS>